Tagaytay City, Philippines. The vast number of positive feedbacks and the shorter travel time help us decide to choose Tagaytay over Baguio. With my birthday coming up, I thought of doing something different prior to this getaway. Here's our Tagaytay City budget itinerary 2018 in 3 days.
In the Philippines, Tagaytay and Baguio are the first two places that pop into our heads when planning to run into cold temperature places for vacation. Located approximately 56 kilometers from Manila City, Tagaytay has been a popular holiday destination in the South for its overlooking view of Taal Volcano Island and chilly temperature. While Baguio on the other side offers same cooler temperature but is leading you to a longer travel time.
With the intention to make this staycation adventurous, we deliberately did not prepare a comprehensive itinerary. So we've summarized our trip into this article for our readers.
Where to Stay in Tagaytay
We have conquered Tagaytay in 3 days so choosing a cheap accommodation and convenient location was our top priority. There are actually a lot of gorgeous places that Tagaytay City could offer. From a humble rate of US$75 per night to US$50 or for as low as US$30 per night.
The Q Hotel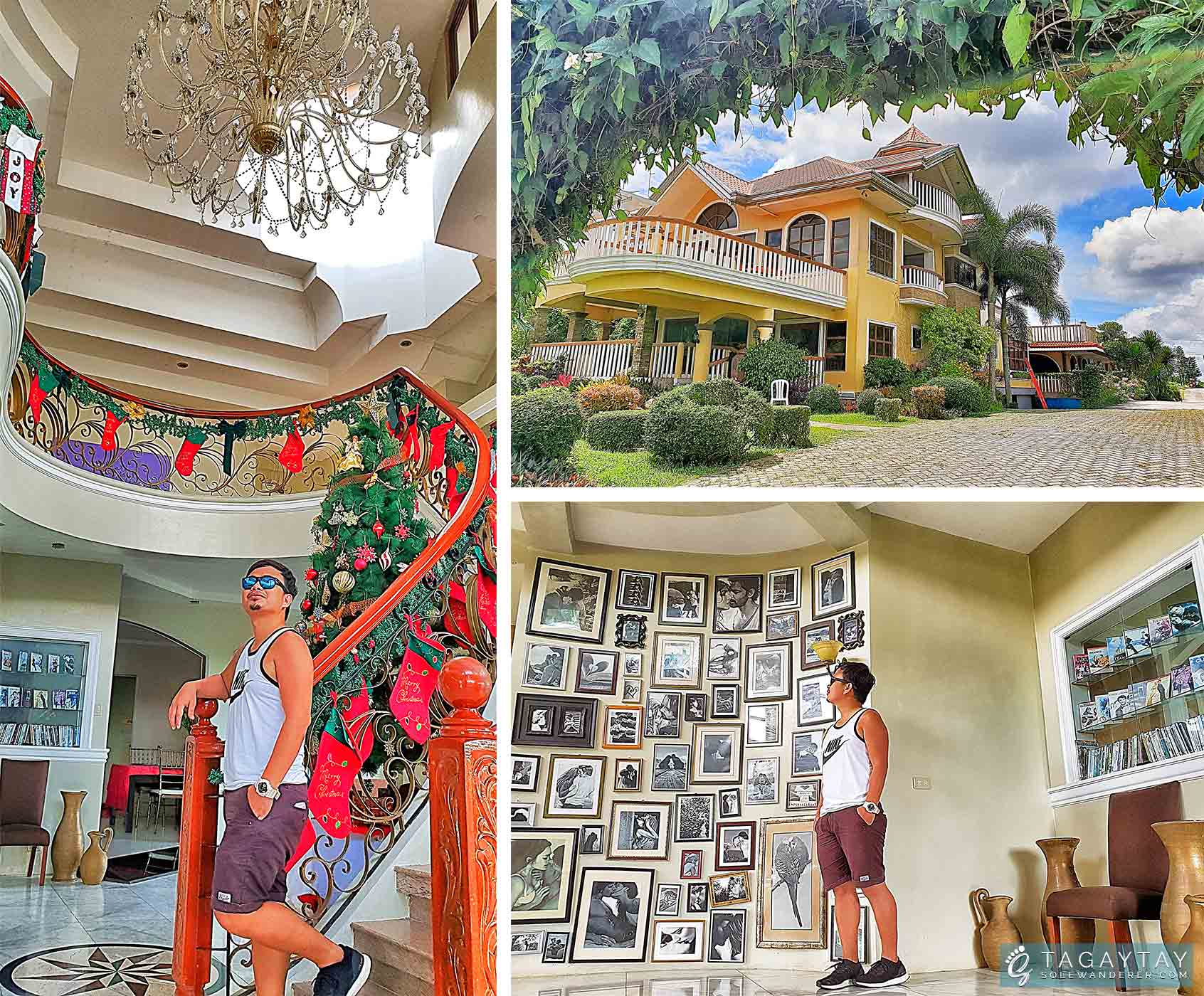 If you are looking for accommodation that is quiet, peaceful and away from conventional Tagaytay area that people frequently visit, then this place is perfect for you.
We got our reservation for Php 1,200 per night at Booking.com and we could say it was a good value for money. Their rooms are spacious and just perfect for reflection and recharging.
But do note, this is not a hotel. This place is designed for events such as wedding or debuts. Also, there are no exciting views that you can relish here except for the wide pineapple fields.
Where to Eat
Tagaytay City, in no-doubt, has evolved into a perfect place for fabulous vacation and delightful dining experience. After satisfying ourselves from every picturesque view and refreshing surroundings, we found ourselves completing each adventure by eating. We had chosen from a lot of emerging cuisines around the city like their popular Bulalo.
Bayani Tapsi
Since our hotel is somewhat in a secluded area with no shops nearby. We had a walk in the Mahogany Market which is just 3 minutes away from our hotel.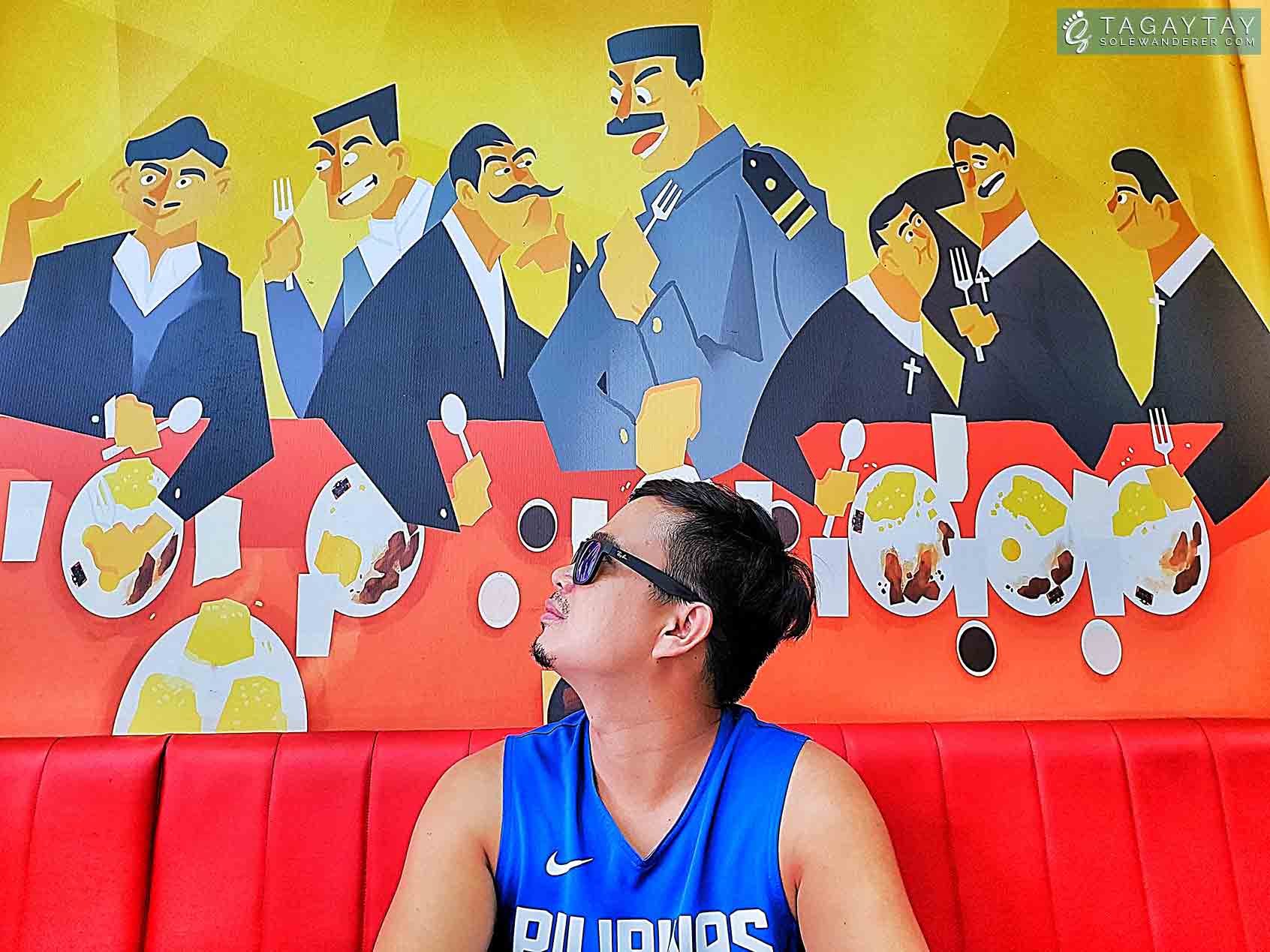 After we took some photos with the stalls along the street (feeling drained and hungry), we looked for a place to sit and fill our starving stomach. And then we saw this Bayani Tapsi restaurant just across the street so we went in and ate a lot.
We've tried their best seller Bulalo (we believed it's a must try in Tagaytay) and Beef Tapa. They got wide array of local dishes, some we were not familiar with (like the Tawilis) while the rest were just usual Filipino dishes.
Big Better Burgers
We were in Ayala Malls Serin for dinner when we saw this shop. The challenge was to eat something in any shop that can't be found anywhere in our place (Cebu).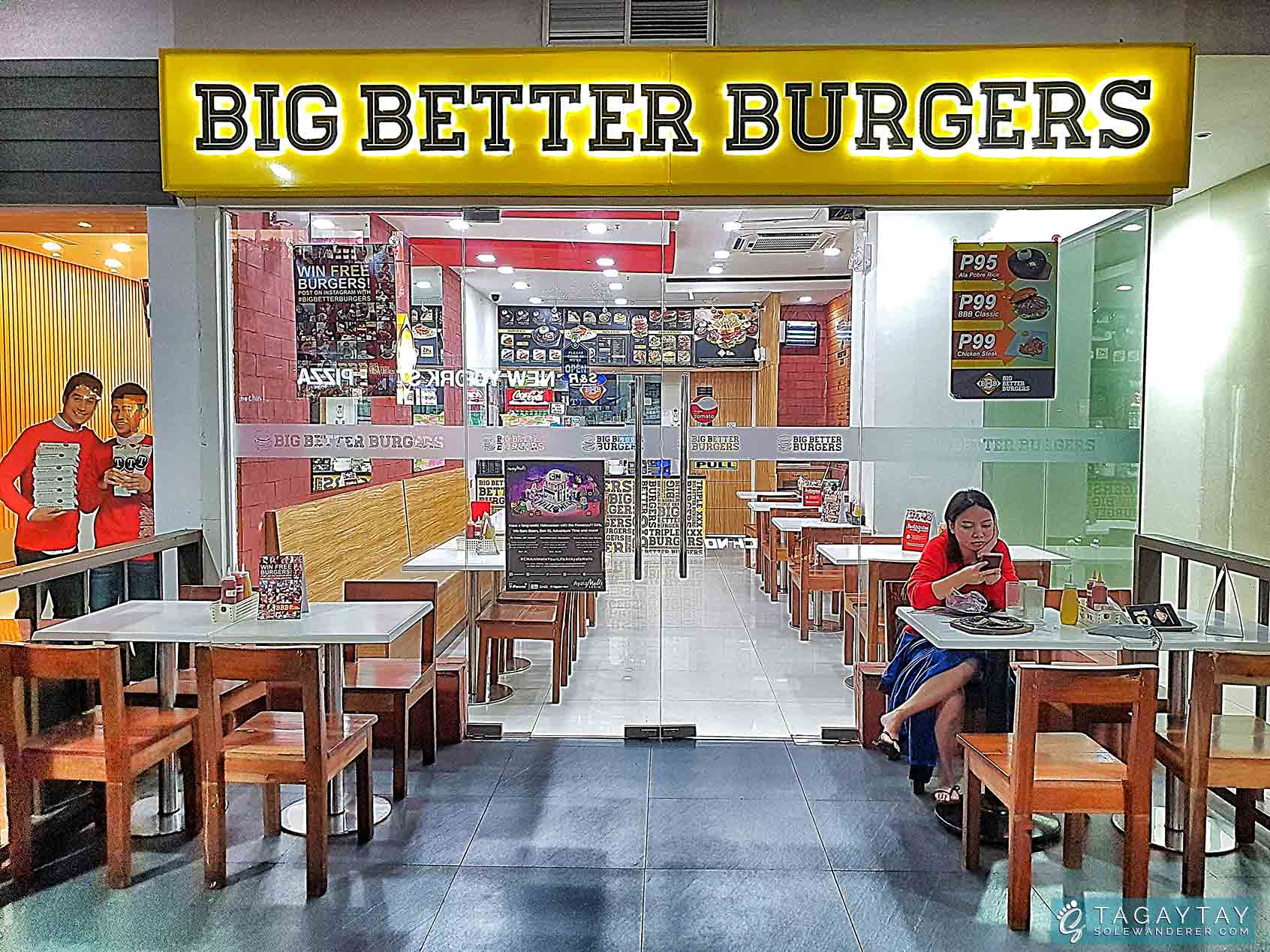 It's not crowded when we get here. In fact, we are the only customers when we arrived. We just loved their patties that are literally charcoal-grilled. We ordered Double Dare with Cheese (1/4 lb for Php 188) and A La Pobre Rice (1/4 lb for Php 99). Their burgers aren't really that cheap but it's good to try.
Dreamland Arts & Crafts Cafe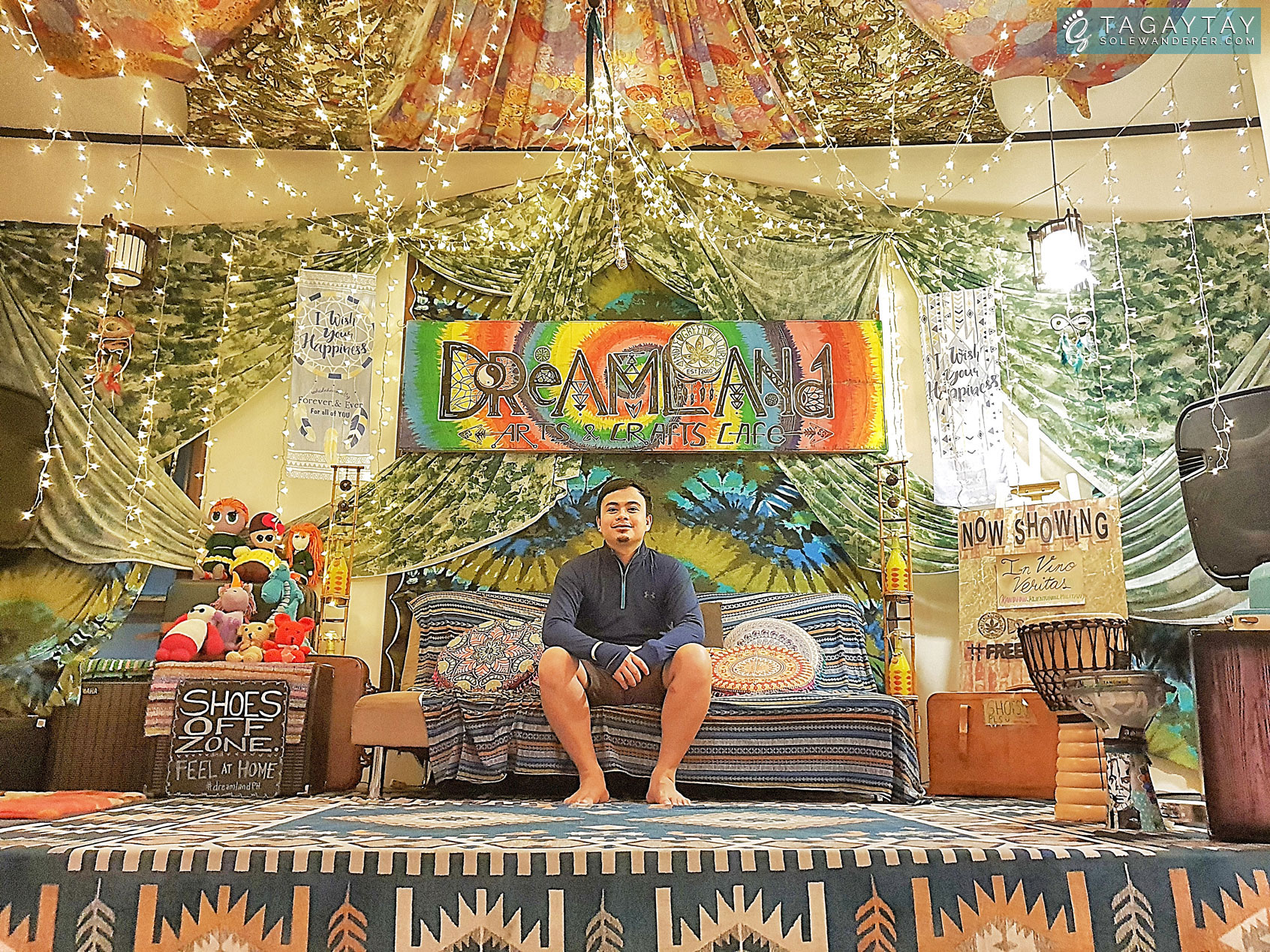 A 24-hour homey cafe in Tagaytay. It's a great place to have fun and/or get ideas related to arts and crafts. Arts are almost everywhere. Even their comfort rooms were not an exception, they've got designs on its walls too. The ambiance of the place has left us totally flabbergasted.
Bag of Beans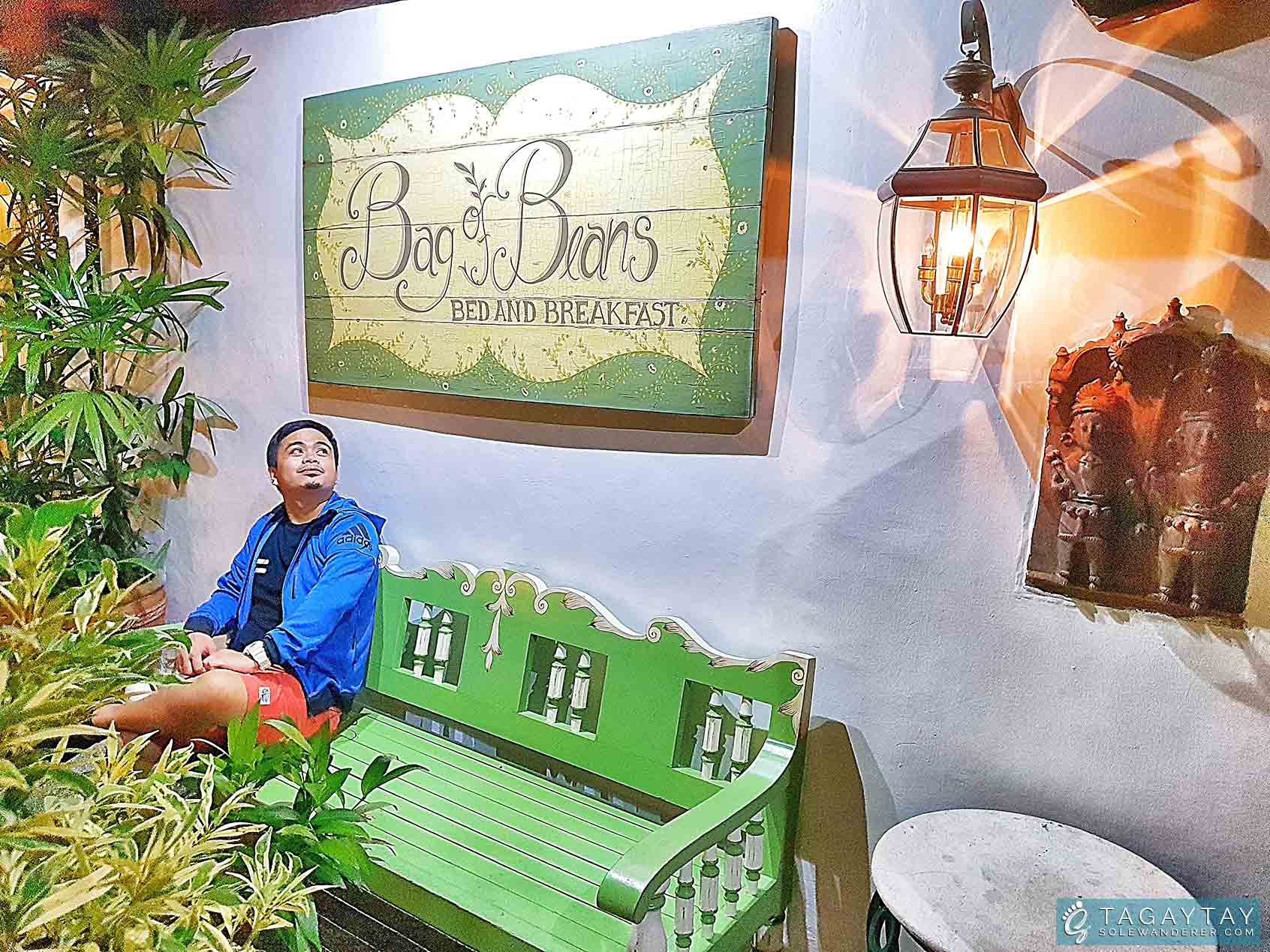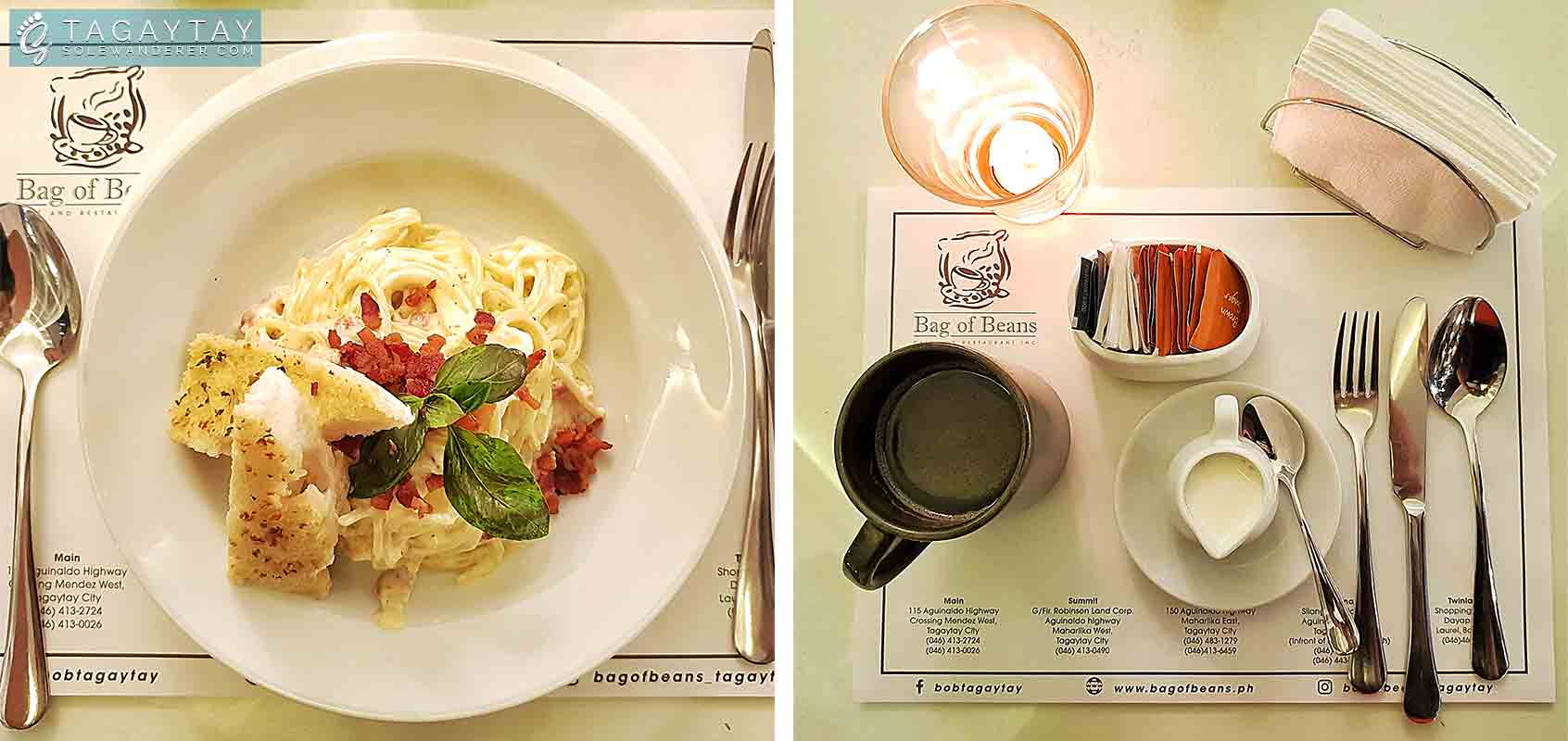 We arrived here around 7:00 PM and the place was packed. Luckily one table had just vacated when we arrived. We loved the tranquility of the place, the romantic light complements the jazzy music on the background, just perfect to wrap up my birthday.
Best Things to Do and See
Tagaytay City offers a wide collection of novel adventures and conquerable places that every vacationer should not miss. And, because of the time constraint, we haven't visited most of their attractions. But nevertheless, we have savored the diversified sceneries of Tagaytay which is an advantageous thing to do. Look what we have checked from our bucket list!
Mahogany Market
As many travelers have said, a trip to Tagaytay will not be complete without dropping by at Mahogany Market. This place is famous for wholesales of Fresh Beef (especially Bulalo cuts) and season fruits. Prices are arguably lower that everyone does not need to haggle for discounts.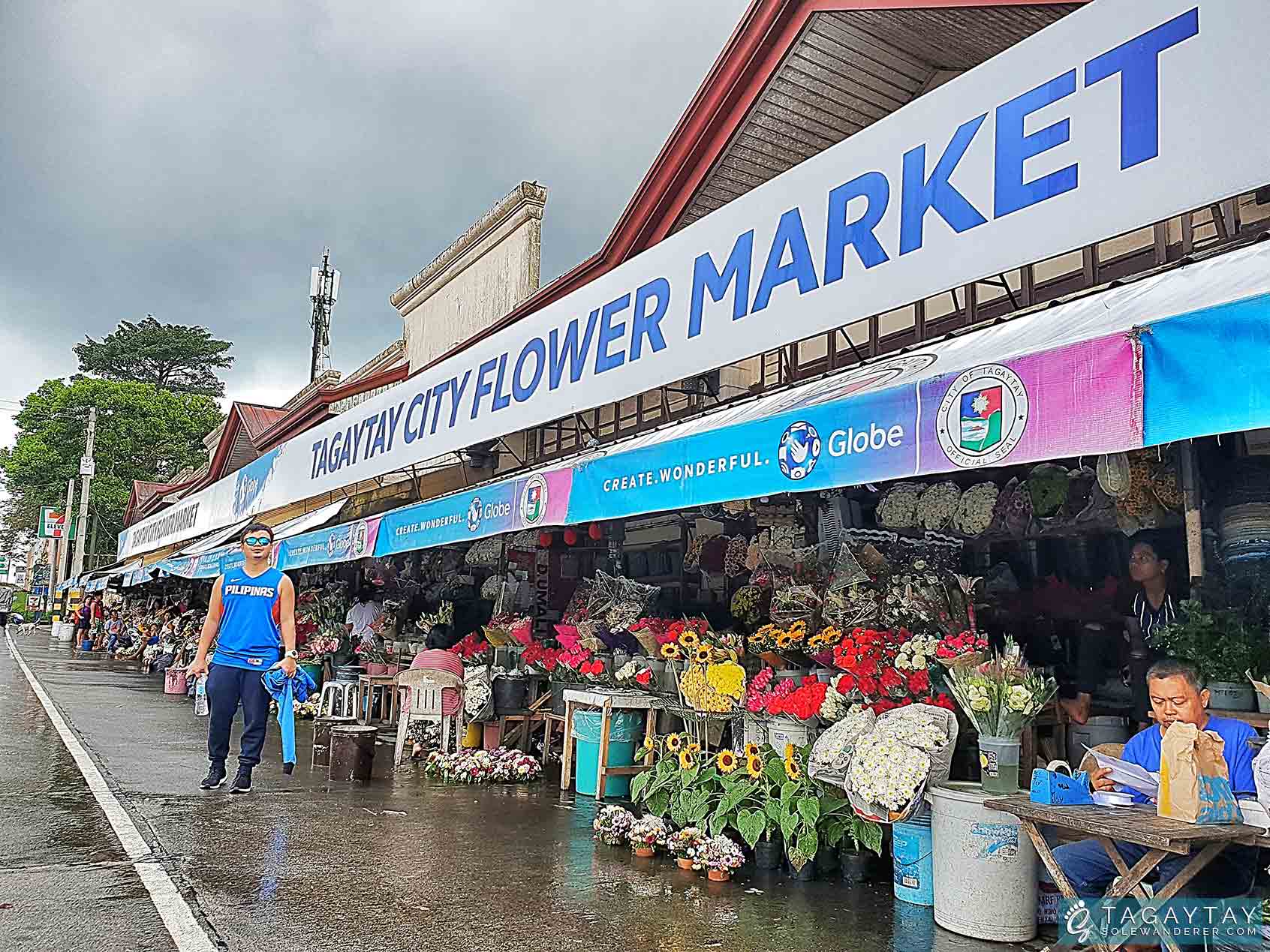 At the back end of the market is where the sellers of plants, flowers, and some fruits and delicacies are located. Their bunch of flowers costs ranges from Php 200 to Php 300 and are way cheaper than in Cebu. Vendors are beautifully lined up along Mahogany Avenue; an Instagram-worthy view I could say.
Museo Orlina
A 3-story museum that showcases the artworks of a talented artist Ramon Orlina. If you love arts (especially glass sculptures), this place should definitely be in your bucket list.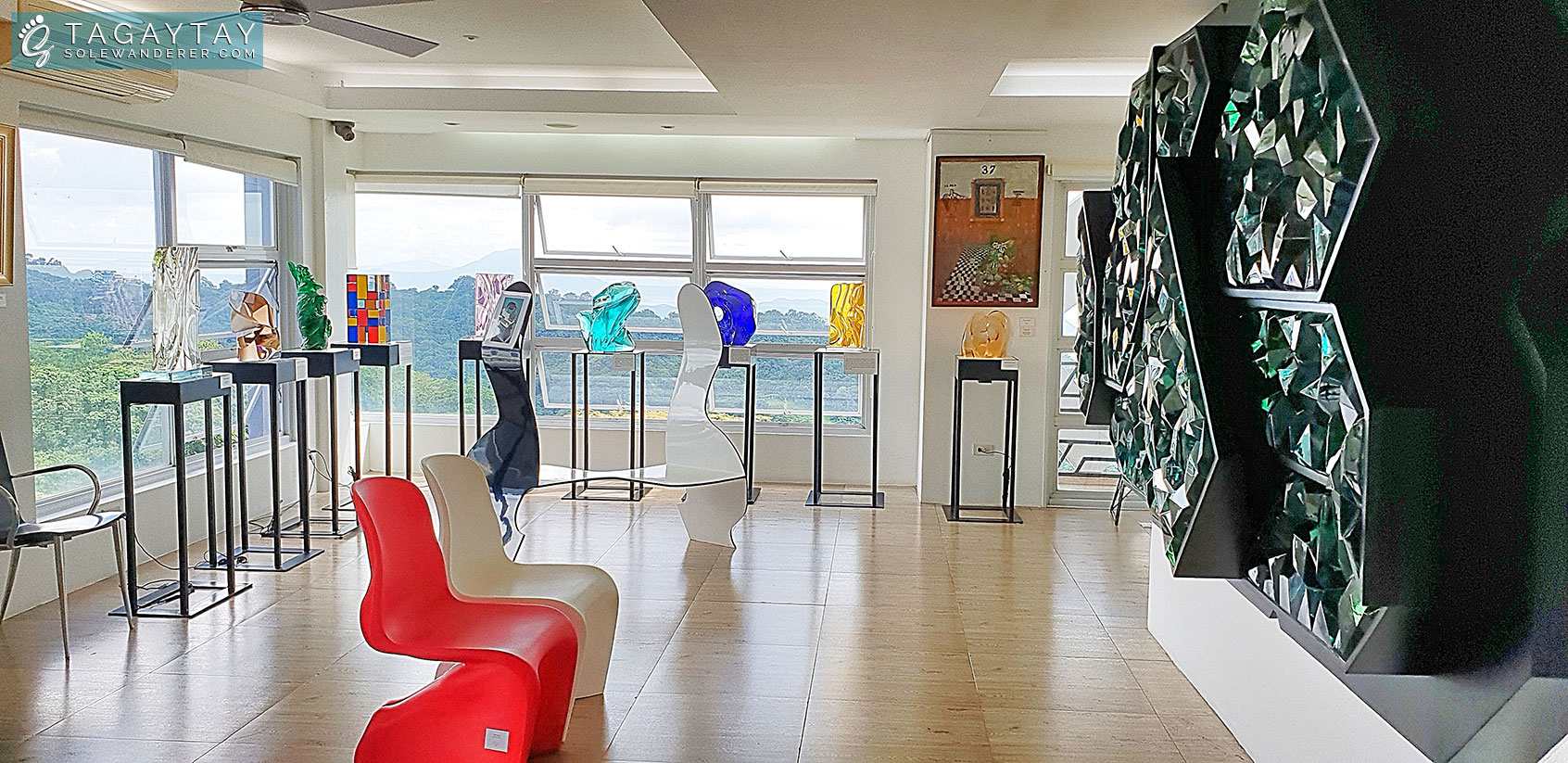 For an entrance fee of Php 100 (for adults) and Php 80 (for children), you'll enjoy a wide art collection of Orlina. From glass sculptures, paintings, cars turned into artworks, and chairs. If you are a conservative person, I would not recommend visiting here with children; as there are few nude paintings and sculptures.
Ayala Malls Serin
Ayala Malls Serin is a medium-sized mall located directly in the heart of Tagaytay. It's a great place to relax and cool down after a tiring excursion.
There is a line of restaurants to dine in, a mix of popular retails, amusement centers with indigenous concepts that perfectly complements the cozy and relaxed feeling of Tagaytay City.
Our Lady of Manaoag (Tierra de Maria)
For religious pilgrims, Our Lady of Manaoag (Tierra de Maria) is a must-visit place. A great example of a quiet, solemn and peaceful place to say a prayer and take time to reflect.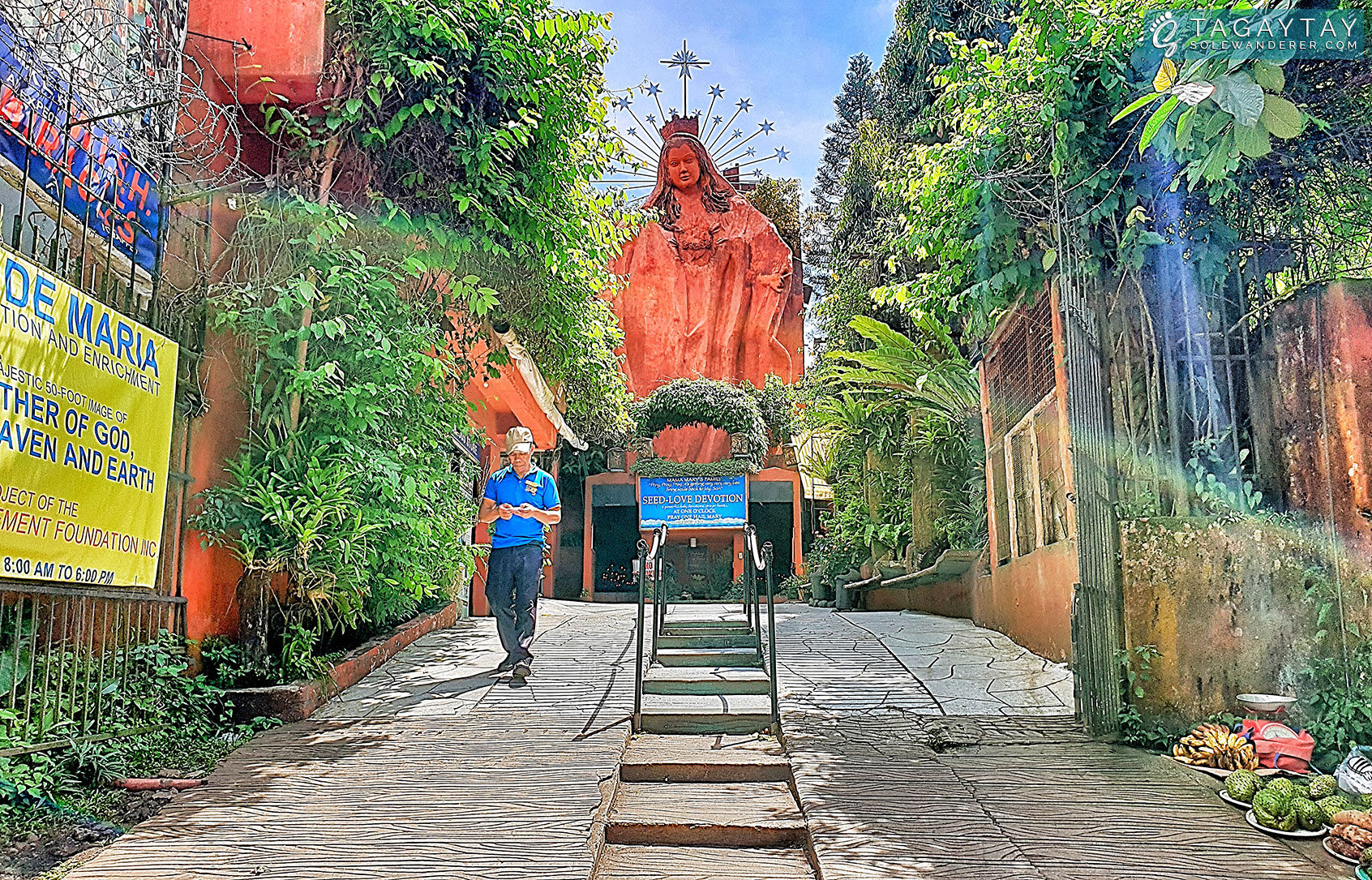 We went here on a weekday so there were only a few devotees in the chapel. According to locals, there used to more people during weekends and on Holy Week season.
Picnic Grove
A perfect place for picnic lovers, that's Picnic Grove in Tagaytay. This recreational place offers a lot of exciting activities such as horseback riding, zip line, Ferris wheel, and cable car.
If you choose to just relax and enjoy the scenery, built-in cottages are made available for that. In this place, you can also enjoy the splendid and breathtaking view of Taal Volcano or Lake to make your visit worthwhile.
Day Hike to Taal Volcano Crater (Batangas)
Taal Volcano is one of the magnificent wonders of the Philippines. While most of the tourists are hesitant to see this stunner up close, we found ourselves un-contented by just merely watching this from a distance.
Although we had the chance to watch its beauty from afar at Museo Orlina rooftop and Picnic Grove viewing deck, that didn't hinder us to do the Trekking Adventure to Taal Volcano.
Sky Ranch
Sky Ranch is a renowned leisure park in Tagaytay City. There are numerous rides that everyone could try including the colorful Ferris Wheel which also allows the passengers to have an excellent view of Taal Lake.
People's Park in the Sky (People's Park)
Commonly known as "People's Park", People's Park in the Sky is an urban park in the sky located atop Mount Sungay (Mount Gonzales). This park offers a breathtaking panoramic view of the nearby provinces including the Taal Lake, the famous Taal Volcano, and Mt.Makiling.
Where to Buy Souvenirs
In Tagaytay, souvenir shops are almost everywhere. Don't forget to bring home any of their fresh baked delicacies, shirts, and other souvenirs.
Good Shepherd- Bahay Pastulan
If you are looking for good quality sweet treats, may it be for personal consumption or pasalubong, this is definitely a place to go. Good Shepherd (Bahay Pastulan) is located in Santa Rosa Tagaytay and has a spacious car park.
Travel Tips
Generally, we had a pleasant experience in Tagaytay and we fell in love with the place. Being a first-timer in the city, we have enumerated below the travel tips that might be helpful for our readers.
Bring a jacket or cardigan with you as it can get really cold in Tagaytay especially at night.
We consider the Bulalo from the resorts along the Talisay Bay area as the best one in Tagaytay.
The best option to get to most of the attractions is to hire a tricycle.
For the

Taal Volcano tour

, we got a deal of 

Php 1,500

 from a tour guide we met in Picnic Grove. (includes tricycle lifts from/to Talisay Bay – where the boats are waiting; and round-trip boat ride to Taal Volcano island)
Haggle for cheaper prices as they can be pricey most of the time. Especially those random people from the streets offering their services (tricycle private trips, tour packages).
Tagaytay Sample Itinerary & Budget
Tagatay – Batangas Series
Afterthoughts
…We may not have visited all the tourist spots of Tagaytay City on this trip. But, nevertheless, we have enjoyed and maximized our 3-Days stay in the City.
Traveling to Tagaytay soon? If you have questions about this trip, feel free to leave it in the comments section below.
Love what you just read? Pin this!