The Scape Skydeck offers luxurious dining in a sky lounge ambiance at the rooftop of a residential condominium. Located at the 12-story Azon Residences' roof deck, Scape Skydeck has become a must-try restaurant for foodies in Lapu-Lapu City and nearby cities.
Scape Skydeck has been a premier destination for romantic dates, grand treats or gastronomic adventures. They've been serving an authentic fusion of international cuisine since 2015 in an exquisite setting. The question is, 'Is it really worth a try?'. Let's go and find out!
Also Read: Spent the Night Devouring at Circa 1900 Cebu
The Atmosphere and Furnishings
Though small, this restaurant has the best atmosphere and furnishing — no doubt! As you enter the place from the elevator, you'll be welcomed by a small yet classy reception and lounge with a touch of modernity. Sitting in the waiting lounge lets you sneak a look at their busy round-shaped bar inside.
This luxury restaurant has two sky lounges, the VIP or the indoor lounge and the Al Fresco. The homey plastic rattan type of furnishings at the outdoor made us feel loosened throughout our dining experience. While the VIP lounge (only available for reservations) is lavishly furnished with neoclassic fittings.
We had a dine at the Al Fresco area and certainly, we were surprised with the picturesque of the Mactan channel, Marcelo Fernan Bridge, Mandaue and Cebu city views itself.
The Menu and Dishes
Their menu offers a blending of international flavors with a hint of Cebuano taste to cater to the complex palate of the local market. We were served with Fresh Spring Rolls with peanut sauce as our appetizer and Truffle Carbonara stuffed with smoked ham. For the main course, we ordered Smoked Baby Back Ribs with corn, mixed with vegetables, fries and homemade bbq sauce, which really thrilled us. The three dishes were sumptuous!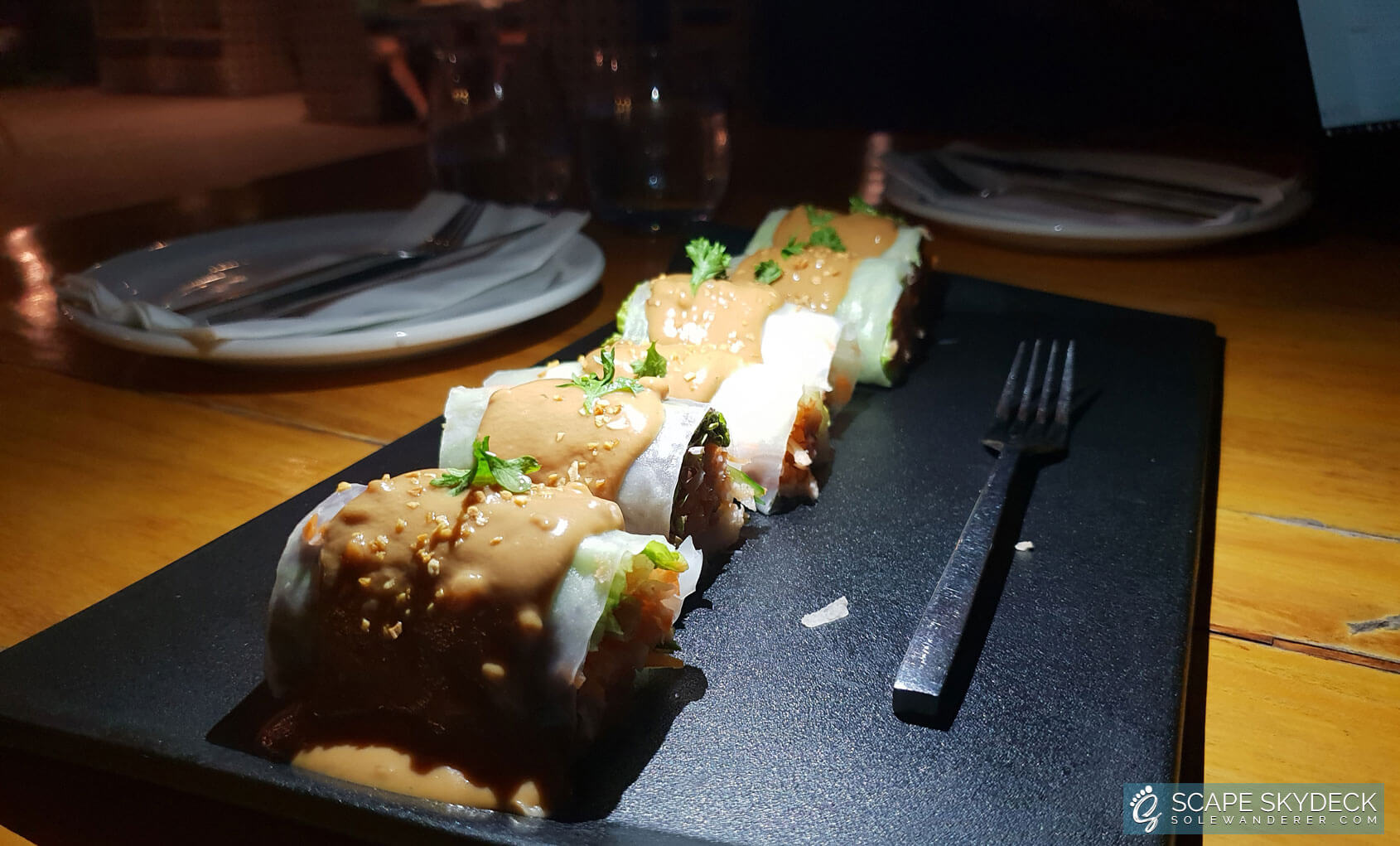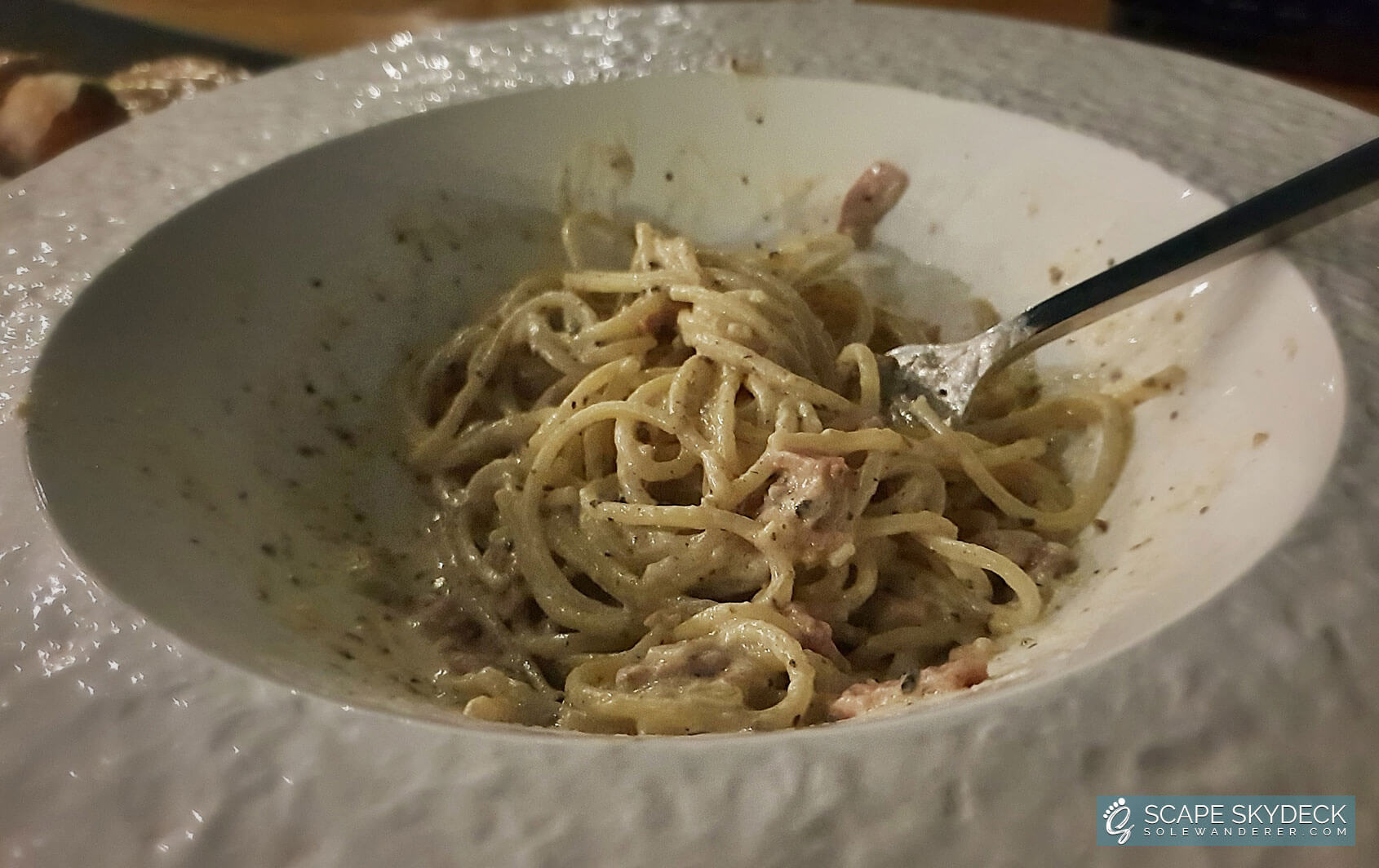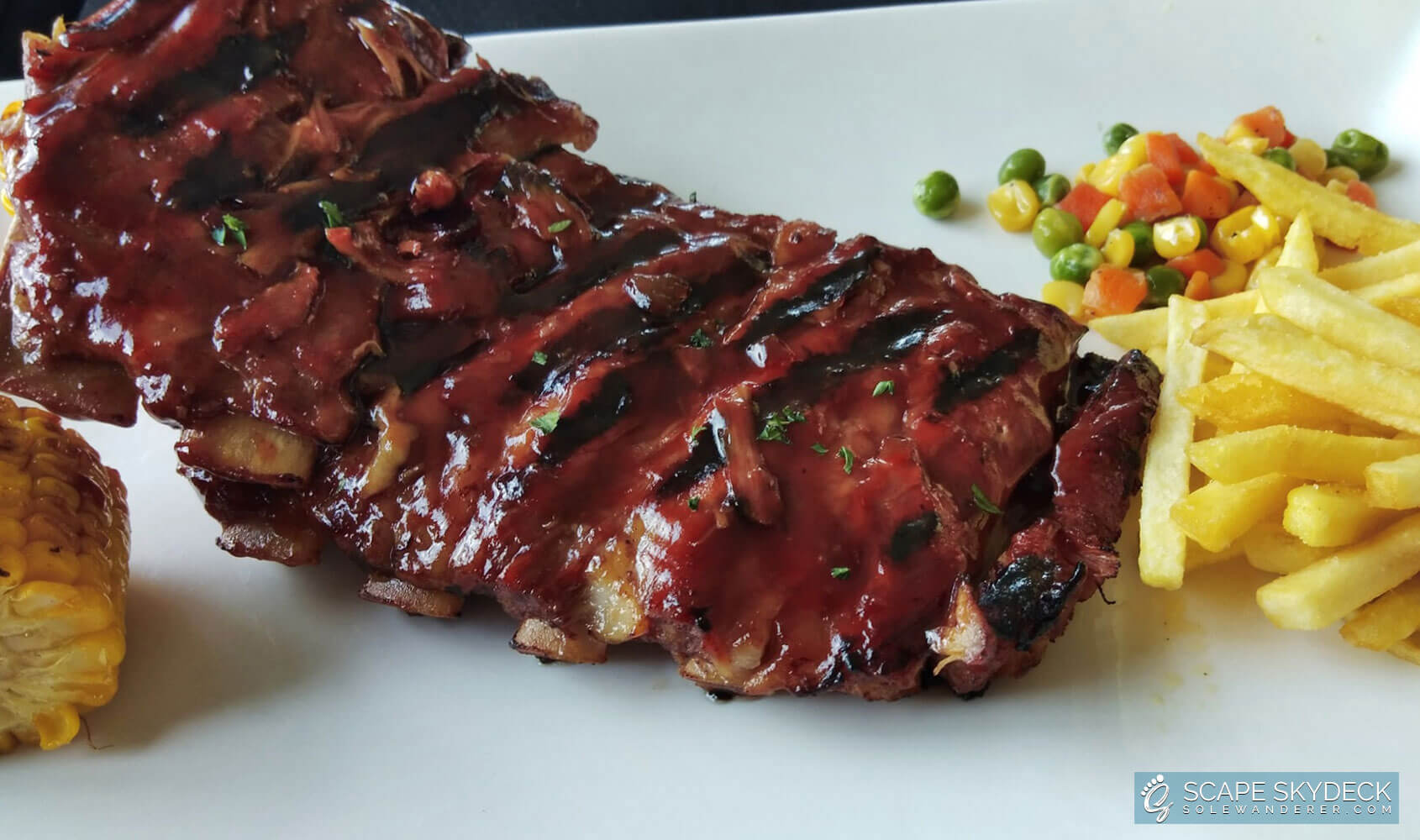 The Ingredients and Price
It's evident that the chef takes a great care in selecting the finest quality ingredients. All of them were served fresh and the food presentation was excellent. They also aim to cater various tastes by serving internationally-inspired cookery like pasta and pizza. You might find their products pricey but it is worth-sampling and beyond compare.
The Service and Waiters
We pitied the management for the service we had experienced. It does not support with the superior quality of the cooking. The garlic bread which supposed to come with the Truffle Carbonara was served late. We aren't sure if it was overlooked by the waiter or by the cook. Also, we can hardly get any attention of the waiters if we needed something. It was our first time in Scape Skydeck and we felt anxious if they were really lack of manpower or we are simply a victim of social injustice as most of the customers were foreigners.

How to Get There and Parking
You can locate Scape Skydeck very easily. A huge Scape Skydeck signage facing Marcelo Fernan bridge is visibly attached at the roof deck of Azon Residences. Customers with a car are not allowed to park at Azon Residences' car park. The restaurant is renting space at Boss Auto Care just beside the establishment.
Our Verdict
Although our experience wasn't as good as what we expect. Scape Skydeck is still eminent as one of the premier overlooking dining places in Cebu aside from those famous restaurants in Busay. Their food is inevitably expensive but it is something that's worth a try especially with your special someone, family or friends. Reach here during sunset or at night to make thy experience memorable and romantic at Scape Skydeck Lapu-Lapu City.
Also read: La Tegola Cucina Italiana: Is the City View and Food Worth the Climb?
Contact Details
Address: Roof Deck, Azon Residences, M.L. Quezon National Highway, Pusok, Lapu-Lapu City
Phone: (032) 232 2192 / (0922) 810-4550 (Sun) / (0995) 150-9862 (Globe) / (0930) 664-1074 (Smart)
Email: [email protected]
Website: www.scapeskydeck.com
Facebook: @scapeskydeck
Business Hours: 11:00 AM – 2:00 PM (Lunch)
5:00 PM – 12:00 MN (Dinner)
5:00 PM – 7:00 PM (Happy Hour)