We received various recommendations of must-see and must-experience restaurants in the City prior to this first-ever Tagaytay trip. Bag of Beans emerged as the top of the list. We gave ourselves a sumptuous treat at Bag of Beans after a fun-filled day tour and hiking adventure to Taal Volcano to commence this notable birthday feast.
This was our very first visit to Tagaytay City. So we kept our expectations low as we really had no idea what this place could offer. We arrived at Bag of Beans around 7:00 PM, immediately after our swift sightseeing at the Sky Ranch.
We Thought We Are Lost
Initially, we really thought that the place was a resort and there was an ongoing event. The restaurant located at the bottom of the slope was covered by the jam-packed, downslope carpark and the bushy pathway plants. So we presumed that there wasn't an available table for us and we justly prepared ourselves to wait.
An Awe-Inspiring Setting
Upon arriving at the reception, we are greeted with a radiant smile from a receptionist saying — "Welcome to Bag of Beans! Sorry but there are no more tables available at the patio.", in a local dialect. Well, observing the carpark on our way to the reception, the restaurant's state came to no surprise. We aren't starving, so waiting is insignificant.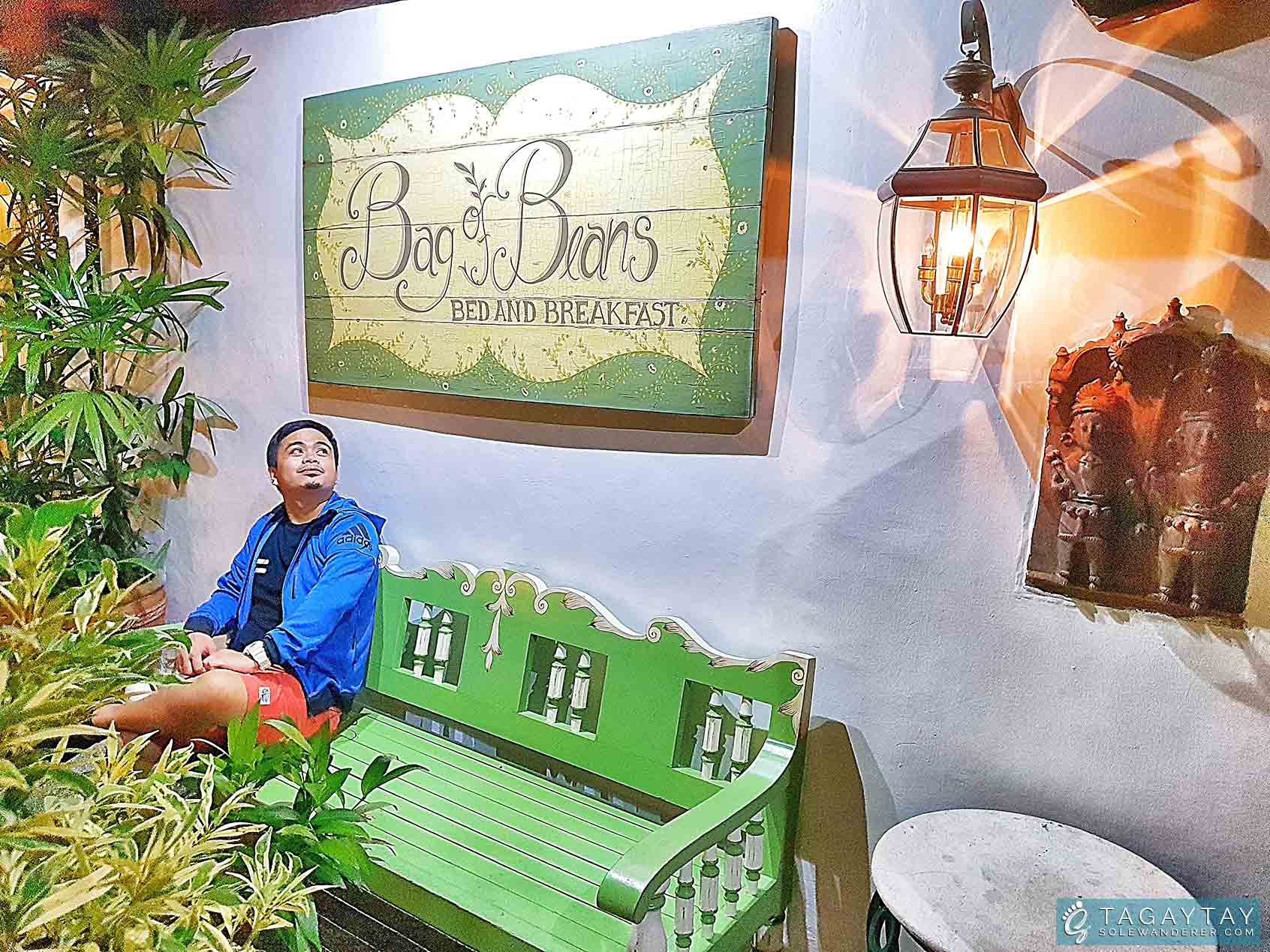 We instantly noticed that it was perfectly set up while we are in the waiting area. There was a bench under the artistically-lit Bag of Beans signage and enclosed by lush green shrubs. The entire arrangement at the reception was "Instagrammable" that we can't stop ourselves from taking a lot of portraits.
A table at the indoors had just vacated fortunately moments after we came. We had ourselves settled finally into the place. It's not that we have impatiently waited, but it's the eagerness to taste their gastronomic delights.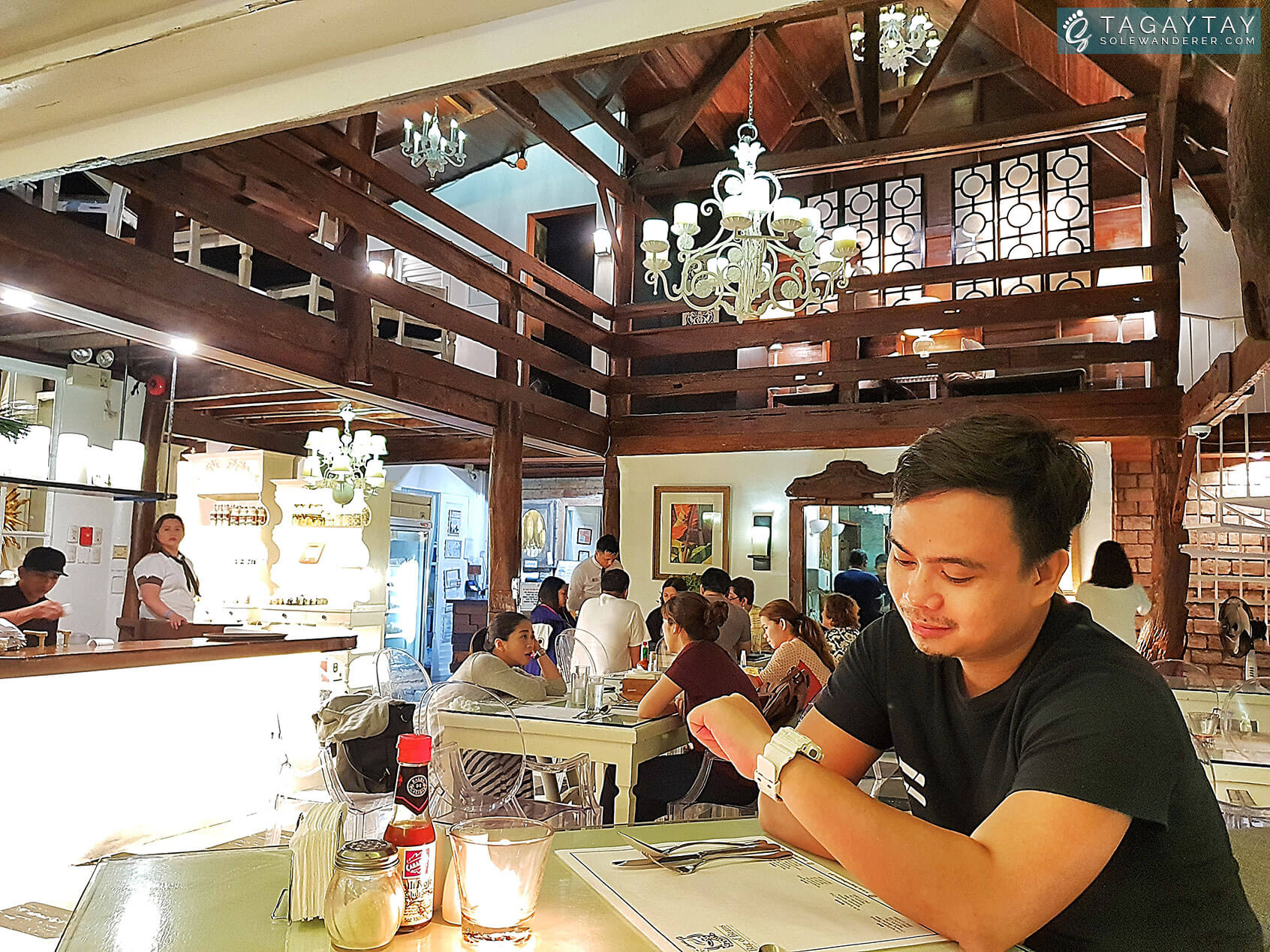 Also, an exclusive area on the second floor is made available for any type of intimate or small group events that can accommodate 30-35 people. It's kinda tucked away from a bunch of people in the restaurant.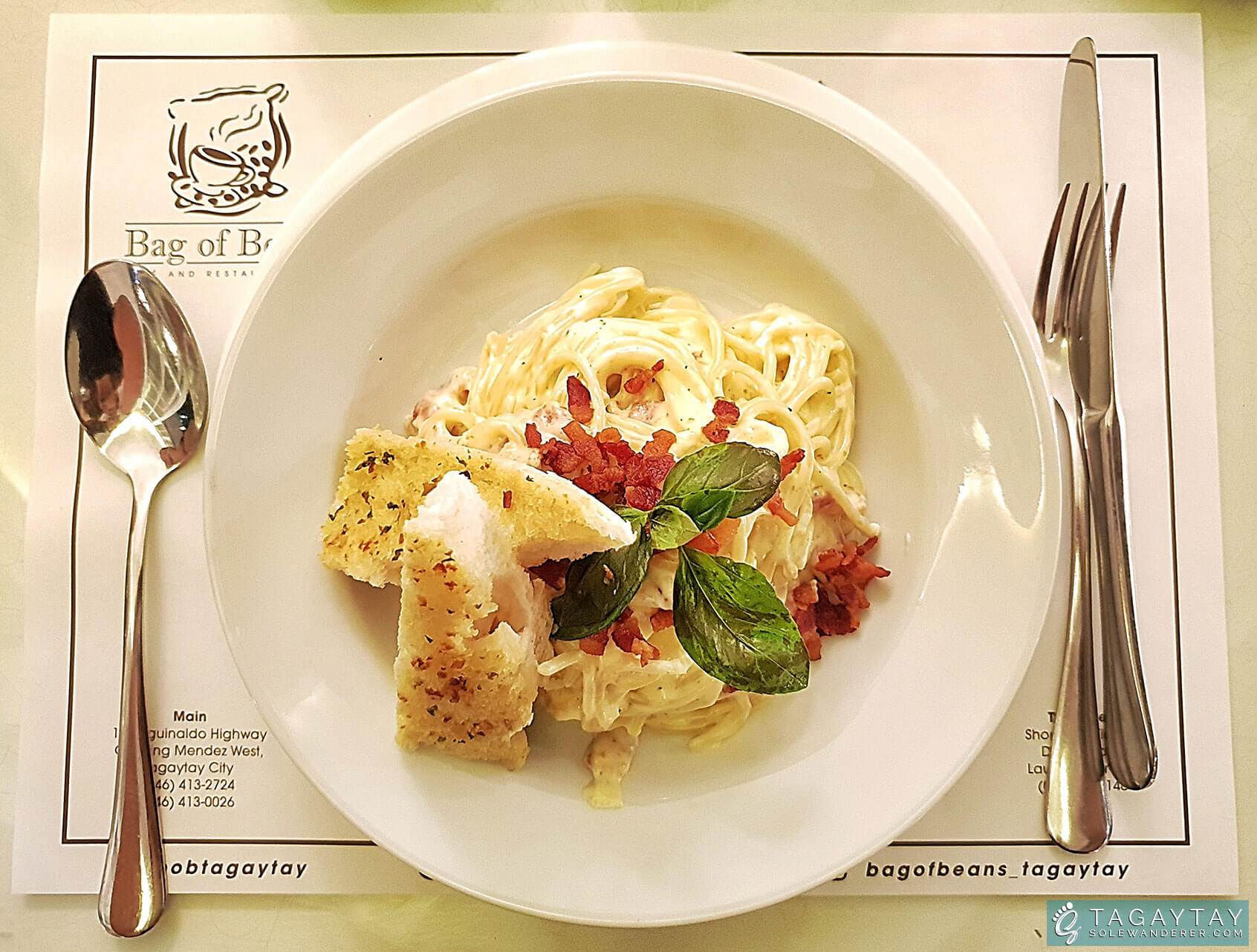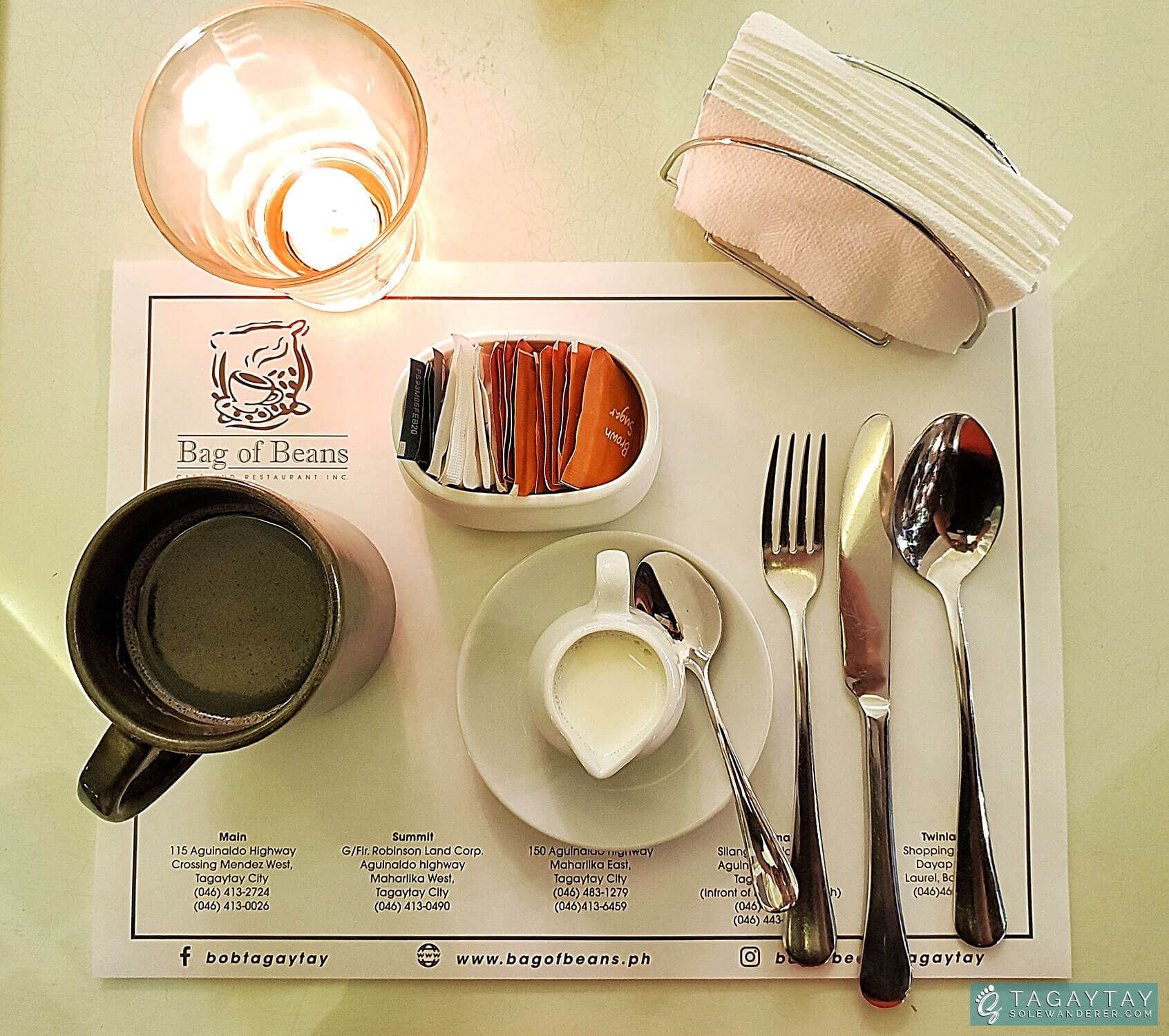 This Bag of Beans' branch offers only ala carte dishes. We ordered for ourselves a Carbonara (PHP 350), a bottomless Barako Coffee (PHP 135), and an Iced Caramel Macchiato (PHP 135). We passionately took picture-perfect shots of ourselves with the environment while waiting for our orders to be served.
Our Verdict
We fell in love with the chilly and laid-back atmosphere of this place. And the rustic ambiance spontaneously complements my romantic candlelit birthday dinner. We are not a food-critic or even close to that, we are just gastronomic adventurers.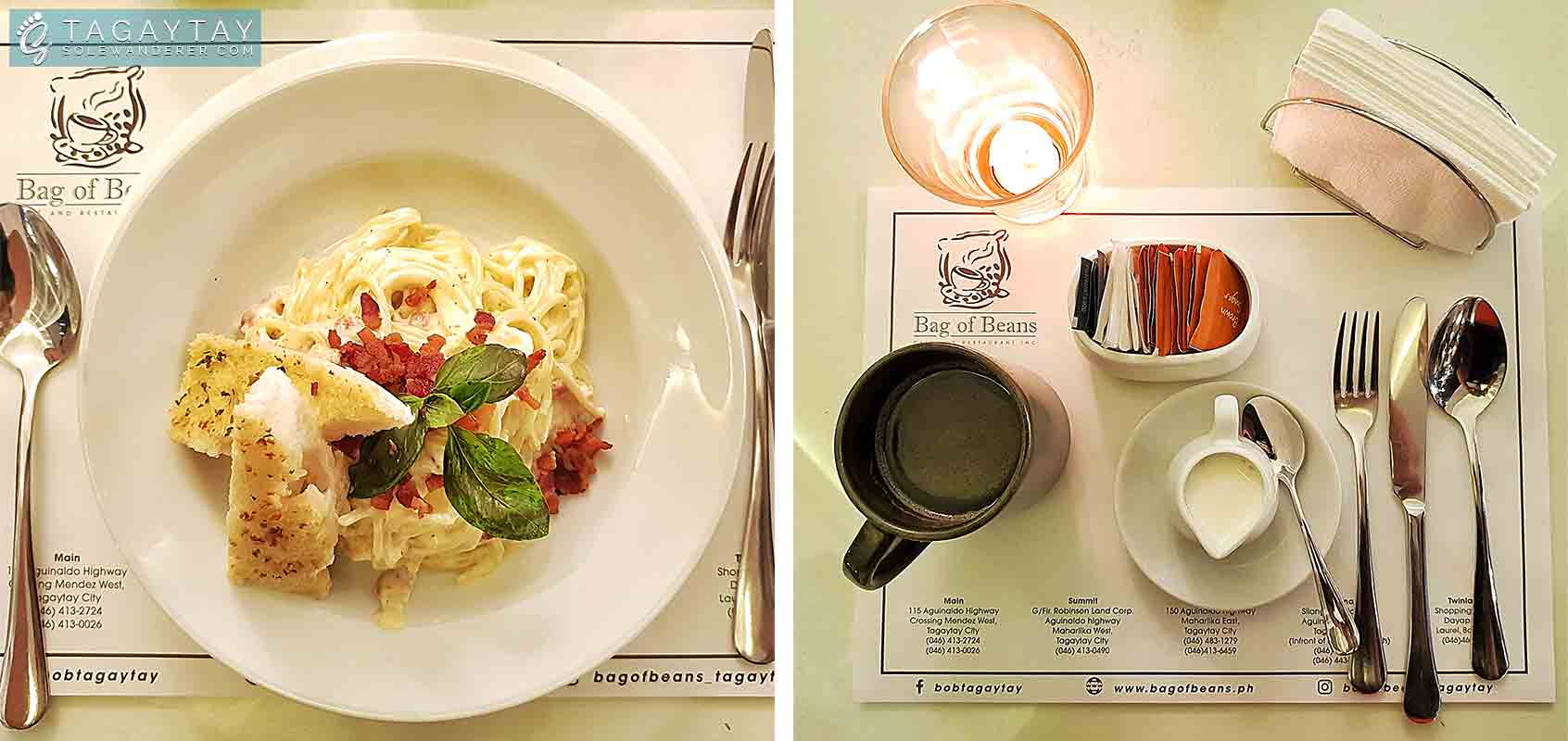 The Carbonara (til the last bit of it) and the Caramel Macchiato were professionally prepared. Their fancy presentation, garnishing and the addition of bacon on their Carbonara made us felt like we are dining in a 5-star hotel. The Barako Cofee on the other hand, I just liked to drink it without anything added (no creamier, milk, nor sugar). So I can enjoy the taste of good coffee on its own.
Overall, the distinctive taste of Bag of Beans' dishes made them unique and different from their competitors. And, we'd say love is in the air that smells like coffee. I believe we will have another cup of coffee at this restaurant when we get a chance to go back. Though their foods are a little bit pricey but still affordable and reasonable.
Tagaytay – Batangas Series
Contact Details
Bag of Beans "Athena Branch"
115 Aguinaldo Highway,
Mendez Crossing West,
Silang Junction South,
Tagaytay, 4120 Cavite
Tel No.: (046) 413-4522
Website: www.bagofbeans.ph
Facebook: Bag of Beans Tagaytay
Instagram:@bagofbeans_tagaytay
Love what you just read? Pin this!